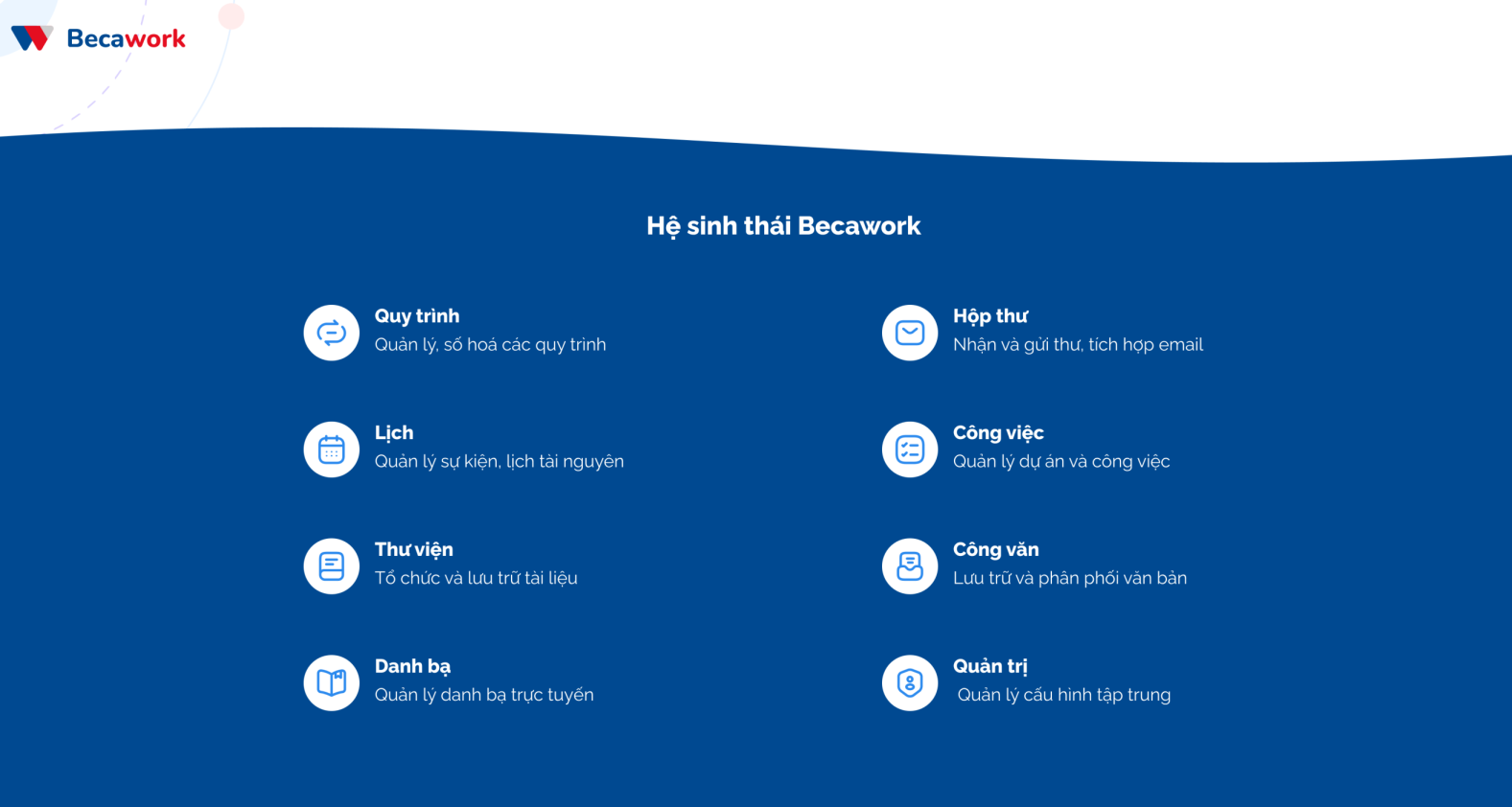 New built-in features
In addition to the basic features of the electronic office that we are familiar with such as office calendar, library, contacts, mailbox, and documents,new features have been added to BecaWork to optimize work management time as well as promote office culture for businesses.
Internal Social Network
Recent studies show that corporate social networking is becoming increasingly popular. It becomes the main data warehouse and communication center of enterprises. According to a research form APCO Worldwide and Gagen McDonald, businesses use internal social networks to help their employees interact more at work. For a large enterprise with many offices and branches, the application of an internal corporate social network is completely reasonable and urgent in the current era of industrialization and modernization.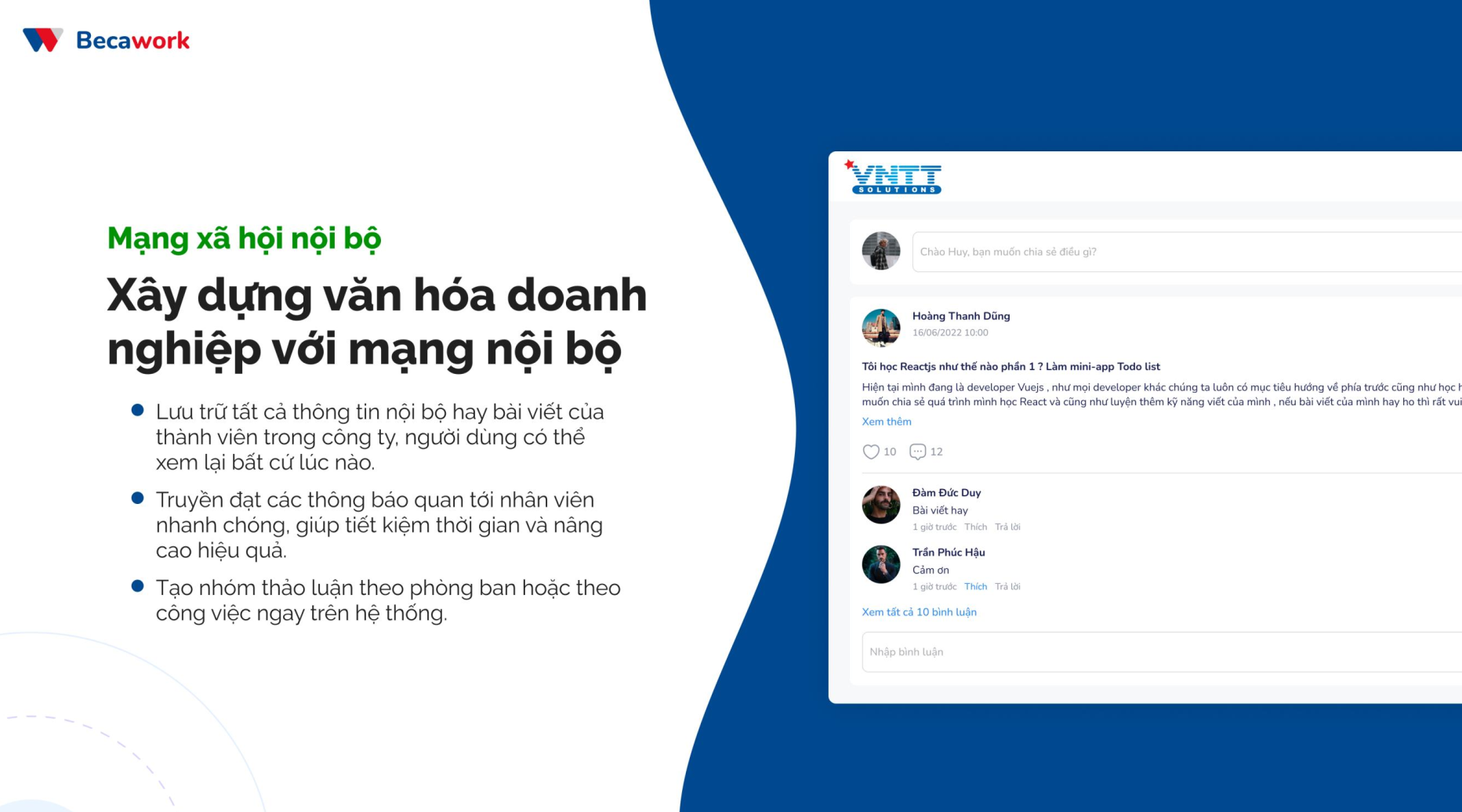 BecaWork creates a separate social network for businesses with a modern interface and full features like current social networks such as Facebook, Twitter, Instagram, etc. with high level of security and privacy for the business environment.
Digitizing all procedures and processes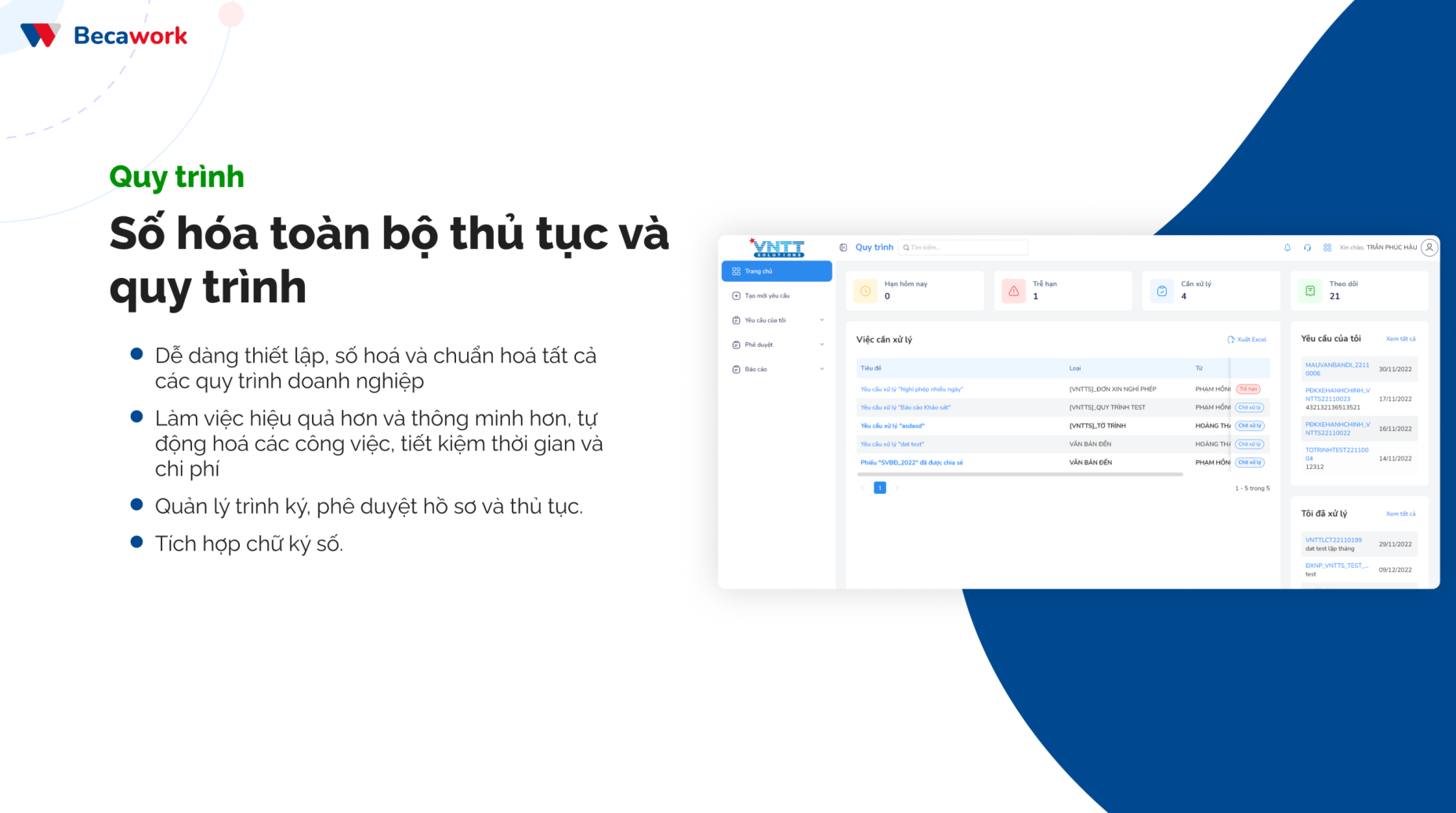 All the enterprises' processes are easily set up, digitized and standardized on BecaWork, helping businesses save up to 90% time and cost on signing, approval and archiving tasks.
The process system is specifically built for each department, each personnel position with a clear division between the responsibilities of each department to minimize delay or omission of assigned tasks. It can instantly detect hot spots in the coordination flow thanks to visual data from which managers can easily control and have a plan to optimize the process, accurately measure the work performance of each department or individual.
Task management
In the Industry 4.0 era, businesses or individuals often tend to use online software to manage tasks to save time and bring higher efficiency. Unlike other individual and expensive task management software, BecaWork integrates all into the system as an important built-in feature.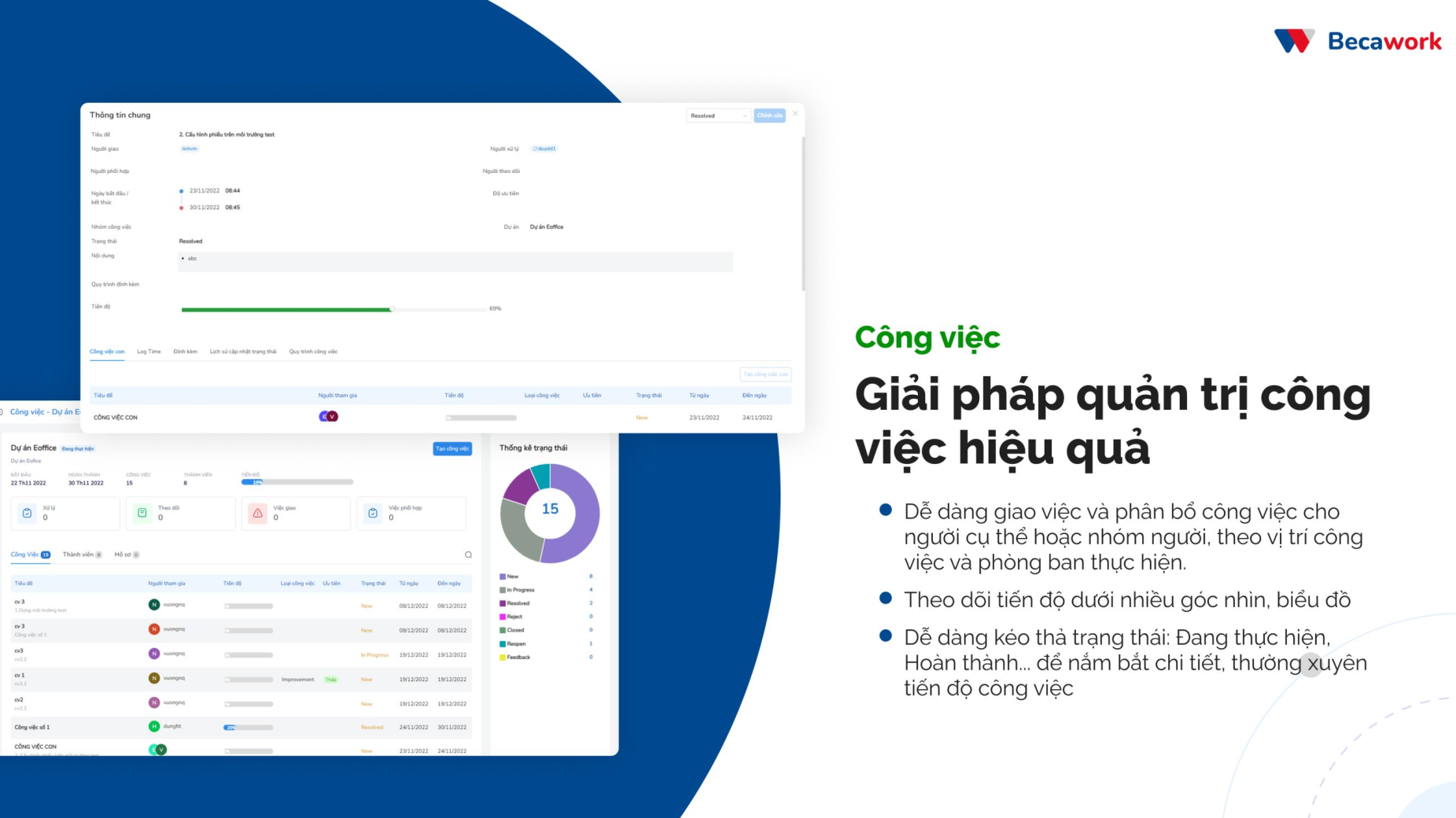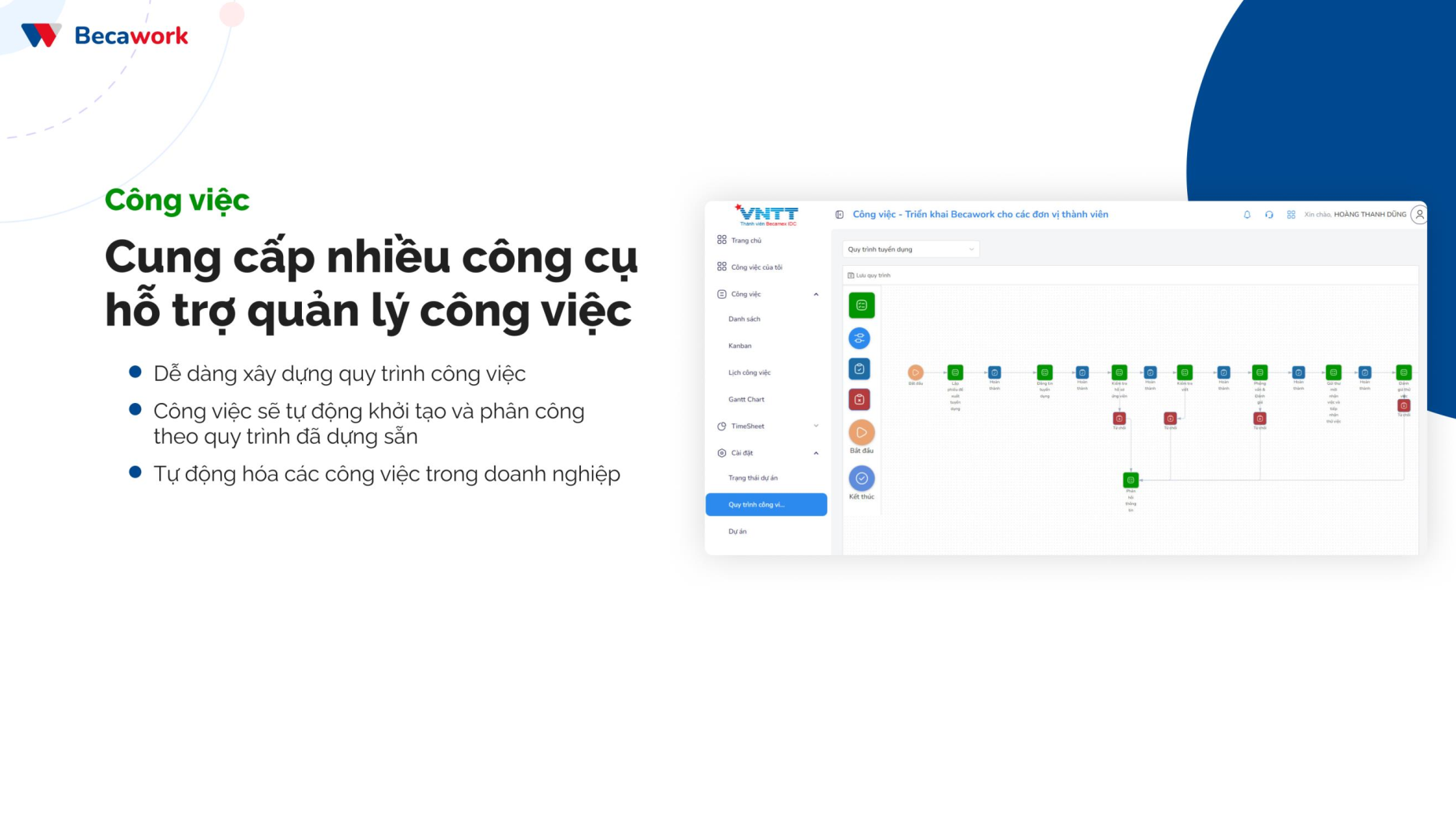 With this integrated feature, businesses can easily assign and allocate tasks to employees or groups of employees following job descriptions and functional departments. Managers at all levels are very easy to track the progress of the assigned tasks thanks to various charts and visual and detailed infographics. In addition, the tasks shall be self-initiated and assigned according to the pre-built processes on BecaWork.
Centralized configuration management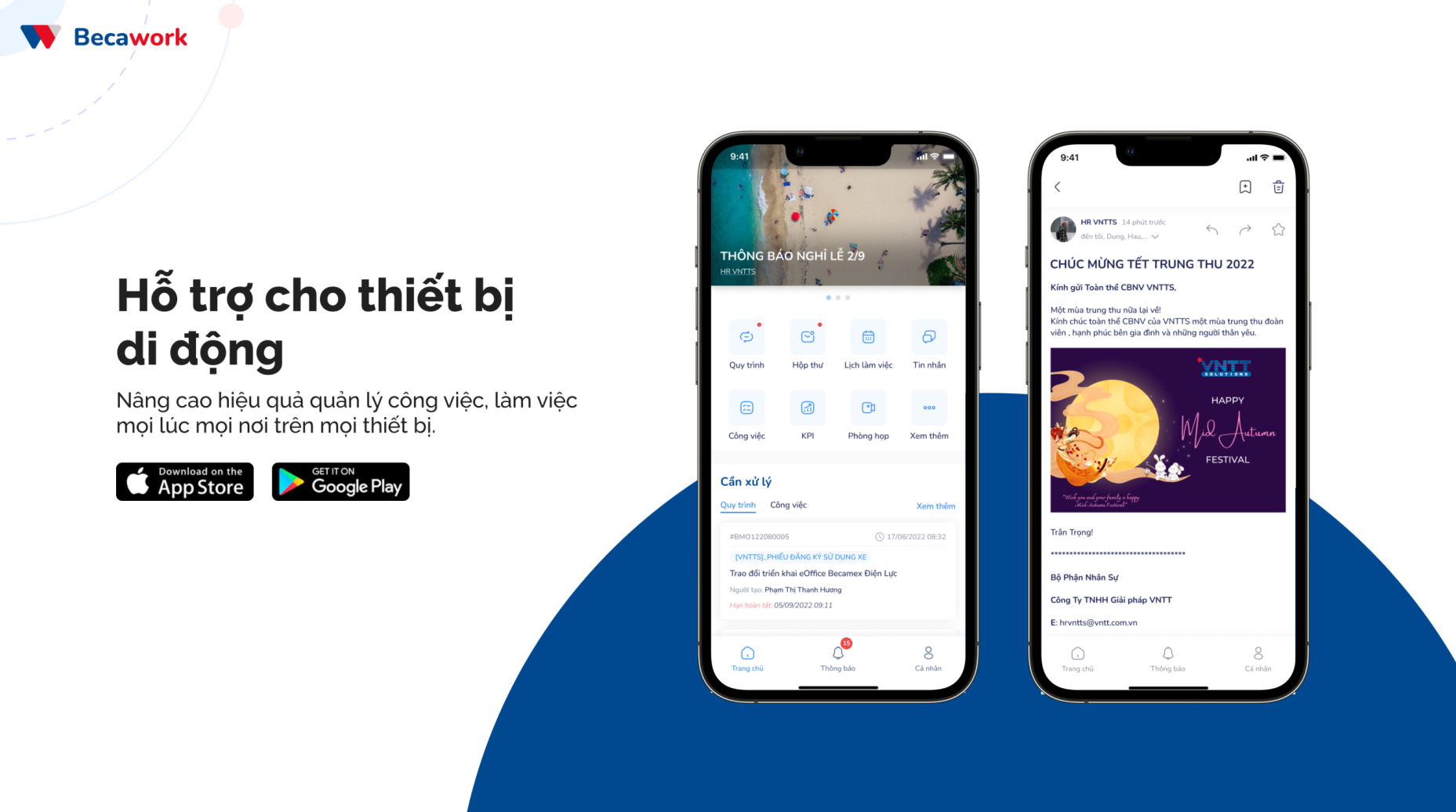 The system administration function of BecaWork allows administrators to configure all modules, manage accounts, users and user groups permissions along with integrated tools for building dynamic forms and processes. BecaWork synchronizes workflows on a single platform. By supporting working anytime and anywhere with laptops or smartphones, BecaWork can help increase work efficiency up to 200%.
Quý doanh nghiệp cần thêm thông tin về Giải pháp văn phòng điện tử BecaWork của VNTT Solutions, vui lòng liên hệ theo thông tin dưới đây: